Awaken as Love Facilitators
September 16th – 22nd, 2019 – Abrams Creek, West Virginia
Book Your Place
Your Facilitators
These retreats are be held by 4 different International Tantra and Spiritual Teachers, between them they are responsible for seeding more Tantra Festivals across the world than anyone else. As well as that being a huge growth path and worldcentric initiation for them, it also means they are in a unique position to be able to allow multiple opportunities for graduates of the the Awaken As Love trainings to get spread their offerings to larger audiences.
James Stevenson – Lead Facilitator
James's passion is to help call forth our human potential and our soul. His weave brings together more than 19 years experience in techniques, practices and information from the cutting edge of Neuroscience, Tantra, Biodanza, Shamanic & Energy Work, Integral theory and Taoist practices to create a spirituality that is rooted in the body. His evolutionary approach is to work on all lines, levels, states and parts of ourselves in bringing forth our fullest potential.
His work in meditation and tantra work draws on many different traditions and paths he has studied from Kashmir Shaivism, Baul mysticism, Advaita Vedanta, Vajrayana Buddhism,  Integral systems and Neo-tantra. He was very much influenced by the enlightened master Osho and enjoyed spending time in Pune and the Humaniversity where he became an AUM meditation leader.
His shamanic work includes being Vision Quest rites of passage guide, holding Sweatlodge Ceremonies as well as Sacred Cacao Rituals. He is also part of the International School of Temple Arts faculty. He has been dancing Biodanza since 2003 and now works as a teacher and a didactic teacher (qualified to teach other teachers in Biodanza Schools). He also leads ecstatic dance sessions, and ran the popular Awaken conscious night club in Edinburgh for many years. www.awakenaslove.com
Riya Sokol – Co Facilitator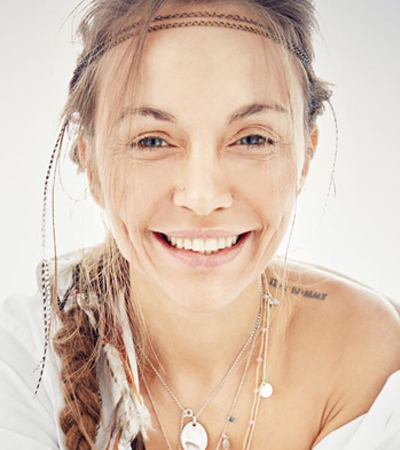 Riya is James's partner – as well as a famous singer for last few years she has been discovering the spiritual path, through Tantra and other unconventional methods of exploring the inner world- where she also uses her soprano.
She travels around the world to offer to people: a "voice- bath" that can take to deep relaxing states of mind, tantric practices– that improve people's lives and relationships, and evening concerts with her own music or mantras and kirtans. 
She is a trained guide of Vision Quest– which is a 10-day process based on age-old tradition rite of passage – taking people to the land to reconnect with nature and themselves and is apprenticing with James in Awaken as Love. www.riyasokol.com
Monique Darling – Co Facilitator
Monique Darling, Author of Beyond Cuddle Partyworkshop facilitator extraordinaire has led over 1,000 workshops in the past 5 years. She is the founder of Juicy Enlightenment an organization dedicated to empowering people who are questioning the assumptions of how their life should be and to offering tools for self expression that create trust, inner knowing and wisdom to enjoy the life they have.
Monique has been featured on TLC and The Dr's as well as various radio shows, podcasts and magazines across the USA. She specializes in helping others reclaim their power and natural sensuality by transmuting fear and repression into courage, self-love and freedom.
Her primary purpose is helping folks bring out their vulnerability, energetic embodiment and fearless relating. Find her at juicyenlightenment.com and whereintheworldismoniquedarling.com
Peter Petersen – Co Facilitator
Peter Petersen has been teaching qigong for 14 years and has been a certified massage therapist for the last 10. Peter has been teaching in health clubs, hospitals, retirement villas, and several different wellness/spa resorts in Mexico and the United States, such as Rancho La Puerta, Mayacamas Ranch, and Present Moment Retreat.
Peter is also a personal wellness coach. This Qigong practice helps people ground themselves into their "now" to increase their present moment awareness of their behaviors, and find simple solutions to problematic habits such as: eating, moving, negative thinking, and sleeping.
The result of this tool box of healthy information is that clients become their own health advocate and regain a sense of stability, peace, and well-being into their everyday lives.
Are you ready?
Ready to take the leap into a new stage of life?
Stage 1 Initiation
Find out more about the Stage 1 Initiation training.