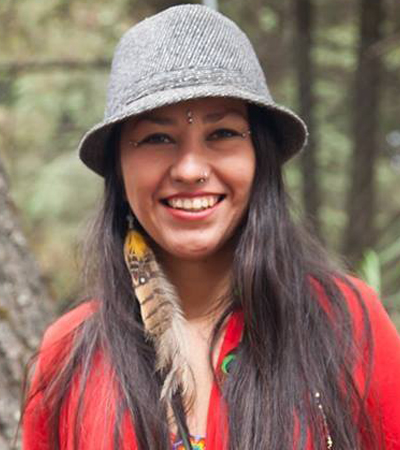 Gisella is a dancer among other activities of her life, dancing is what makes her truly free, she dances to express, to release and to connect with her physical and emotional body. Dancing is her divine connection to the spirit, she is a Dakini dancing the sacred spiral. Movement has become a bliss in her life since she started getting involved in liquid dance, contact improv and ecstatic dance. She is now seeking to bring forth a new way of transformational dance session to reconnect with the emotional body.
From a young age she developed a great taste for music and dance, which made her explore different types of dance like Hawaiian, Belly Dance, Tribal, Temple Dance, Oddissi, Kalbelya and African Dance. Despite all the types of dance she explored, she has never been inclined to devote to any particular style nor she has any special techniques. With inspirations and spiritual practices such as Native Traditions, Tantra, Temple Arts, Red Tent, Shamanism, Tai chi and Qi gong she fused all her elements to create a Ritual Performance to a Prayer Dance. https://www.serpentrouge.org
Are you ready?
Sometimes people just jump and discover something amazing waiting for their lives.
Need more information?
Find out all the practical information you need for the festival.