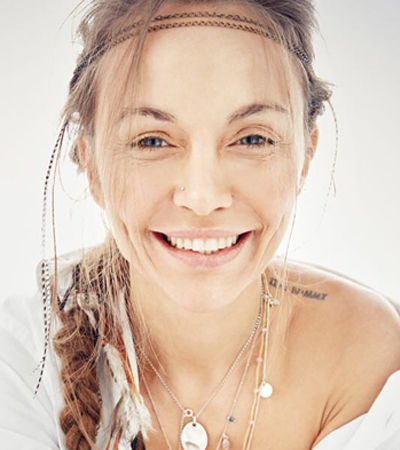 Riya is James's life partner, as well as a famous singer, awakening coach, tantrica, vision quest guide she is very connected to earth medicines and ceremonial spaces.  Having a mixture of jewish, south American and Indian roots, her passion is to bridge these lineages. Life mirrored to her this strong combination by training her in both Amazonian Shamanism as well as in Tantra- initiated by Kaula Heart of All, and influenced by the Baul Mystics and Master Osho.
She uses her voice in many different forms – whether it's singing, speaking or making sounds she has never heard before – to open hearts and transform people's life.
She travels around the world with her Beloved, learning from him and sharing the gifts of this tantric relationship with groups, offering: a "voice- bath" that can take to deep relaxing states of mind, tantric practices and ceremonies– that improve people's lives and relationships, and evening concerts with her own music or mantras and kirtans.
Are you ready?
Sometimes people just jump and discover something amazing waiting for their lives.
Need more information?
Find out all the practical information you need for the festival.